New Megatrend: Customised Living SWISS KRONO GROUP at DOMOTEX 2012
12. January 2012 | At DOMOTEX 2012, SWISS KRONO GROUP will roll out global power to show that it is outstandingly equipped to meet the high expectations that go hand in hand with the new megatrend of "customised living".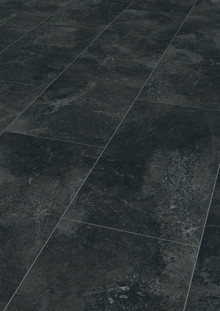 Unique and Different – New Solutions for All Applications
In the year 2012, laminate flooring needs to be unique and different. This new megatrend goes by the name of "customised living", and SWISS KRONO GROUP will score points by rolling out global power for meeting its requirements at DOMOTEX 2012 in Hannover, Germany from the 14th to 17th of January – with new designs, fascinating structures, unusual formats and innovative surfaces. "Modern laminate flooring has to be unique and create an ambiance," explains Max von Tippelskirch, the chairman of the board and CEO of KRONOTEX GmbH & Co. KG. "Our newly revamped 2012 collection offers unprecedented solutions for the full gamut of applications." The way they are presented is also unique: on a total of 416 square metres of floor space on two levels, the SWISS KRONO GROUP will demonstrate its global laminate power and incomparable internationality. An enormous red stand in Hannover (Hall 9, Stand C14) will be the shared, modern platform for various companies of the SWISS KRONO GROUP: KRONOTEX GmbH & Co. KG based in Heiligengrabe, Germany, the Polish KRONOPOL plant, the Russian firm of KRONOSTAR, KRONOTEX USA in the United States, and KRONOSWISS of Switzerland.
MAMMUT: New Decors with Natural Character, Strong and Quiet at the Same Time
It is possible to optimise perfection? KRONOTEX has succeeded: the popular MAMMUT laminate floorings already bring together the best attributes of the ROBUSTO, DYNAMIC and EXQUISIT collections, thus giving them non plus ultra status. And at DOMOTEX 2012, KRONOTEX will show international trade visitors three unique new MAMMUT decors that are so incredible that even hardcore fans of real wood will be inspired to buy them. The extraordinarily natural appearance of the new MAMMUT decors, together with a completely new surface structure (embossed in register), makes them indistinguishable from real wood. Specially developed for KRONOTEX, they come in ten different board types without any décor repetitions over a length of 1845 millimetres. Another special benefit is that they are 12 millimetres thick, resulting in the added comfort of an extremely quiet floor.
ROBUSTO: Trendy Vintage Style with Deep-Embossed Surfaces
As its name suggests, ROBUSTO is rugged and withstands even extreme stresses. And right on time for the most important industry event, KRONOTEX is launching three new strong members of the ROBUSTO family. These expressive additional oak decors radiate uniqueness and vitality. In particular, "Rip Oak" weds a trendy vintage style with the highly resistant ROBUSTO surface. Knots, cracks and a slightly sawn look lend unique charm to this laminate flooring, which is specially designed to resist extreme stresses. Deep-structure matrix embossing results in the matt/glossy contrasts typical of wood, thus optimising its fascinating, trendy look. The colouring was also developed exclusively for KRONOTEX and blends excellently with a huge range of private and commercial decorative styles.
MEGA: New Tile Look and Ultrafast Installation
Things aren't always what they appear: in the new MEGA collection, the XXL flooring version from KRONOTEX, v-joints around the edges and in the middle create the perfect illusion of real tiles with a structure you can feel. MEGA comprises eight decors that are completely pressed with an all over surface structure for an authentic stone look. In addition to the deceptively genuine-looking joints, according to KRONOTEX these floorings are also MEGA-easy to install: their classic double-format of 1302 x 326 millimetres slash installation times by about 40 percent.
KRONOTEX at the Wood Flooring Summit
For the first time, the industry's high-end vendors are exhibiting together in Hannover at the first Wood Flooring Summits. And the SWISS KRONO GROUP is naturally also on hand in Hall 9, which provides an exclusive setting for attention-getting brand and product presentations. This premiere is poised to be a blue-ribbon business and lifestyle event, at which the SWISS KRONO GROUP will impress visitors with its international diversity and world-class innovations.
Convince yourself ahead of the show: the new KRONOTEX full-line catalogue "2012 Collection" with information on all collections is ready for downloading "hot off the press".

New Download Service for Journalists
Press releases and up-to-date photographs as high-resolution image files are now available for downloading from our website at www.kronotex.com. Go straight to "Company/Press".
More articles
Five Latest Articles