Sustainability in Practice: Grounded in History, Pointing the Way Forwards
As long ago as 1560, the neighbouring state of Saxony passed forestry laws based on the idea of sustainability. In those days there was a considerable demand for wood for use in the mining industry, but good sense prevailed and the harvesting of wood was limited to a level "that the woods could tolerate … and persistent utilisation might continue", as it was put.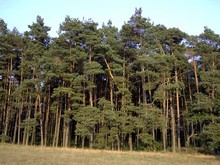 We continue to comply with this historically anchored principle by only purchasing wood from sustainably managed forests – while ensuring even greater sustainability. We have developed and extended the original idea further, adopting the modern view of environmental protection, business and social responsibility as being equally important pillars of our everyday activities.

With our innovative products and solutions for healthier living, we improve both our own environmental balance sheet and those of our customers and suppliers. Where business is concerned, we are committed to long-term, continual value creation. And in respect of social responsibility, we foster and train our employees while striving to better the social environment in which we operate.

By means of our certified energy management system (which conforms to DIN EN 16001), we meet our promise to protect the environment by lastingly consuming less in the way of energy and resources and thus optimising our energy efficiency. You can download the certificates granted for our energy management system and many others at Services -> Downloads -> Certificates.