Vapour Barriers: Effective Protection Against Rising Moisture
When laminate flooring is continuously exposed to moisture rising from below, it swells and suffers irreparable damage. A vapour barrier is an effective way to protect your floor.

What exactly is a vapour barrier?

Vapour barriers are materials used for damp proofing. The best approach is to lay a sheet (also called a membrane) of PE plastic 0.2mm thick beneath laminate flooring. Sheets are available in different sizes. A single sheet measuring four by four metres is large enough to cover most rooms. Sheets two metres wide and up to five metres long are also available rolled up; they are placed parallel to one another.

Why is a vapour barrier necessary?

Laminate flooring consists largely of wood. And wood reacts to moisture by swelling or warping. So it stands to reason that consistent exposure to moisture is also bad for laminate flooring. A vapour barrier is the best and simplest way to protect it: by preventing moisture from below from penetrating the flooring and damaging it.

Is a vapour barrier necessary with all substrates?

It's especially important to lay down a vapour barrier on mineral substrates such as concrete and screen, as they emit moisture. But installing a membrane is often also advisable on subfloors that look dry at first glance. On ground floors, for example, the moisture content of the substrate can fluctuate from season to season. In the summer you may have the impression that it's dry, but that can change dramatically in the winter.

In heated rooms over basements, a vapour barrier is indispensable. Condensation readily forms in the ceiling over an unheated cellar and rises towards the laminate from there.

How do you install a vapour barrier?

Before you start laying a membrane, we recommend that you read our article on suitable subfloors; it may be necessary for you to obtain a residual moisture report from a screed specialist first.

Vapour barriers should always be laid on a clean and dry surface.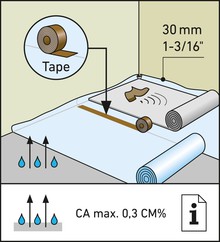 Start in one corner of the room and spread the membrane out from there across the floor.

As moisture can also penetrate laminate flooring from walls, make sure to place the vapour barrier so it extends up on each wall by three centimetres. In corners, you can cut a slit in the edge of the sheet and lay or fold the flaps over one another. The membrane will be covered later by the skirting boards.

Tip: Use sticky tape to fix the membrane to the walls so it won't slip out of alignment.

If you lay multiple strips of membrane, it's best to overlap them slightly and use sticky tape to join them together. If you dispense with tape, they should overlap by at least 20cm.

You can lay membrane on top of expansion joints. If there are transition profiles at doorways, remove them first and screw them back on afterwards.

What's the best way to combine a vapour barrier with acoustic insulation?

Practical acoustically insulating underlays which integrate a vapour barrier are available. This solution may not save you any money, but is much faster and easier to install: two birds with one stone.

If you don't choose a combination product of this kind, the next step is to put down an acoustic underlay before proceeding to the laminate flooring.