Transporting and Storing Laminate Flooring

It's easy to get your new laminate flooring home in good shape by following a few simple rules. In the following, we describe in easy-to-understand language what matters for transporting and storing it.

The Right Way to Transport Laminate Flooring

It's best to leave the new laminate in its original packaging for transport. Assuming that you're planning to take it home yourself in your own car, here's how:

Lay the boxes down flat inside the car, preferably in the boot or if necessary on the back seat. Don't place them upright or lean them.

Make sure that they are also supported in the middle and not just on the edges.

To prevent the boxes from sliding when driving through curves and making turns, we recommend that you fasten them with belts etc. But not too tightly, to avoid damaging the tongue-and-groove joints!

Don't run the risk of the packaged laminate getting rained on – that means not transporting the boxes on a vehicle's roof or in the back of a pickup truck, for example.

After arriving at your destination, leave the flooring in the original packaging until you get around to installing it.

Proper Storage

In case you decide to postpone installing your new floor (for whatever reason) or are unable to move into your new home when planned (perhaps because it's still under construction), it's important to properly store the new laminate flooring. The same goes if some is left over after installing your floor and you want to keep the rest in reserve (you never know!).

Short and sweet:

| | |
| --- | --- |
| Upright or flat? | Make sure to store the laminate panels in a flat, i.e. horizontal, position. Otherwise they can suffer damage or warp. |
| Stacked or spread out? | The best approach is to stack them crosswise, with each successive layer rotated 90° with respect to the last. This saves space, allows air to circulate better and prevents the boxes from tipping over. |
| Inside the original packaging or not? | It's better to leave the laminate flooring in the original packaging, which will protect it from damage. |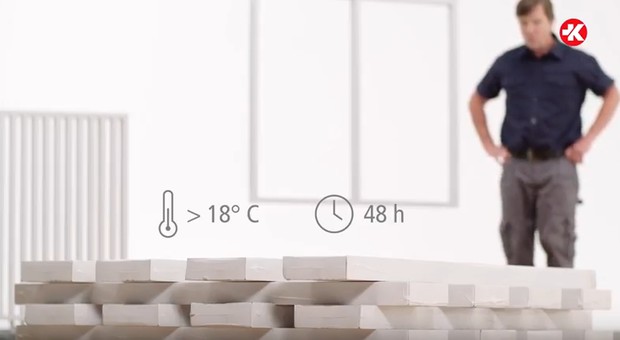 It's a good idea to stack laminate flooring in a crosswise pattern with successive layers at right angles to one another.

Acclimating Laminate Flooring

Before installing flooring, allow it to acclimate for about 48 hours at a temperature of at least 18°C. Lay the panels down (without removing them from the original packaging) in the same room in which they will be laid. It's best to lay four packages alongside one another, then the next four on top of them at right angles so it looks like a grid. This has the added advantage of preventing the panels from sagging in the middle.

This lets the engineered wood that the laminate mainly consists of adjust to conditions in the room. It's then ready for installation, and you'll continue to enjoy your new floor for a long time to come.

Long-Term Storage

If you need to store laminate flooring for longer than the 48 hours required for acclimatisation, make sure to monitor the temperature and relative humidity. The ideal conditions for longer-term storage are a temperature of 20-22°C and 50 to 60% r.h. Avoid large temperature fluctuations and constant draughts – they can damage laminate by causing it to repeatedly expand and contract. It's best to leave the panels in the sealed boxes and store them in a heated room.

If a box has already been opened, it's advisable to use packaging tape to reseal the plastic sheet surrounding the panels. So just in case, it's best not to dispose of the packaging right away when installing the flooring. If you do, however, a tip is to wrap individual panels in the plastic membrane you're using for the vapour barrier – it very effectively protects your laminate flooring.