Big debut, backed up by style – and supported by solid expertise
Kategorie: Products, General
19. May 2020 | In the merry month of May, SWISS KRONO and the KRONOTEX family provide new inspiration for your stylish home.
Discover the freshness and stylish comfort of our brand new SILVER OAK decor from the HERRINGBONE collection. Because that is the immediate impression given by this light and delicate decors, newly designed and developed for lovers of Nordic interior design.


Silver oak brightens the room – and delights everyone!

Nordic. Cosy. Stylish. We have designed this exciting mix of elegance and youthful verve for real furnishing enthusiasts – SILVER OAK (D3773) from the KRONOTEX HERRINGBONE collection. The friendly tone of the silver-grey varnished oak is aimed at everyone who loves to see a contemporary take on tradition – and still live in a youthful, extravagant style. The pale, matt lustre, expertly-grained wood tones can be combined not only with glass and heavy leather, but also with strong colours and modern metal, concrete or plastic.

Boldly embrace a fresh style at every turn

SILVER OAK (D3773) also transforms your living spaces into a friendly foyer, a bright workshop or an inviting studio. The contemporary combination of museum-like elegance and Scandinavian openness is achieved with an authentic wood finish decor – not least because of the innovative matching of the grain pattern with the haptic embossing (ER). The newly interpreted herringbone look playfully combines classic Gründerzeit flair with the esprit of stylish, modern living concepts.

Not a floor for everyone – but for connoisseurs the be-all and end-all

With this credo in mind, we have designed nine decors that are highly authentic in terms of colour and feel and, thanks to our laying technique, indistinguishable with the naked eye from a classic parquet floor. And yet HERRINGBONE – especially in our new SILVER OAK finish looks incomparably modern, fresh, lively, and more compatible with your individual furnishing style.

HERRINGBONE – not everything has to be Art Deco!

Experience this stylish melange of the traditional and the modern! Even the most minimalist furnishing with select vintage classics complements the lightness of this unconventional laminate flooring. The individual 665mm x 133mm panels expand the sense of space with subtle refinement and a masterful sense of depth. Whether a Viennese coffee house, an Italian opera house or an elegant cabin, the panels, skilfully arranged at right angles, enhance the spatial effect without disturbing the overall harmony.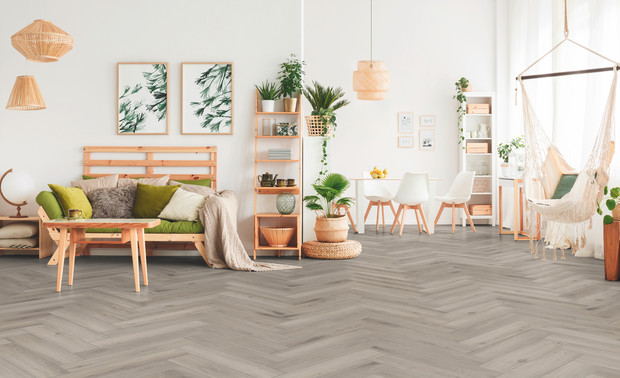 Enjoy the experience of SILVER OAK, or another finish of your choice from our HERRINGBONE collection, in your own cosy home.

Five Latest Articles
More articles