Simply a Huge Mega-Success: The SWISS KRONO GROUP at DOMOTEX 2012
Kategorie: Pressemitteilungen
30. Januar 2012 | "Meet us at DOMOTEX" was the SWISS KRONO GROUP's motto for this year's trade fair. Visitors from 51 countries responded to the invitation to convince themselves of its global power.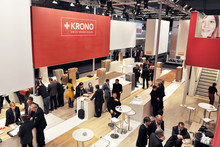 Group-Wide Presentation a Resounding Success

"In Hannover we presented the latest developments and trend products of all of our companies," summed up Max von Tippelskirch, chairman of the management board and CEO of KRONOTEX GmbH & Co. KG, "and it was our most successful DOMOTEX to date."

By the time DOMOTEX 2012 closed its doors on the 17th of January, 45,000 visitors had come to learn about the trends of the coming season at the world's most important trade fair devoted to floor coverings. Customised living is one of the new mega-trends, and the SWISS KRONO GROUP scored points in this category with its global power. The large, modern, red stand of the SWISS KRONO GROUP was shared by KRONOTEX GmbH & Co. KG based in Heiligengrabe, Germany, KRONOPOL of Poland, the Russian company of KRONOSTAR, KRONOTEX USA and KRONOSWISS. The group theme was anchored in an original visualisation of the trade fair motto "Meet us at DOMOTEX" that integrated photographs of actual KRONO employees, while at the same time enabling the SWISS KRONO GROUP to show its "faces" to trade show attendees even before they entered the stand.

The clearly and geometrically structured stand was divided into areas for the various members of the Group, thus creating an open, easily navigable presentation platform. Exhibits of the extensive collection of decors offered by all of the companies – and especially horizontal presentations – let interested visitors touch and feel the panel structures and easily refer to them while talking business.

Mega-Highlight – ROOMS, the New Premium Brand for Specialised Merchants

KRONOTEX GmbH also staged a premiere to acquaint interested trade visitors with a mega-highlight: ROOMS, the new premium brand for specialised merchants. ROOMS comprises exclusive, newly developed decors and structured surfaces that are only sold via specialist retailers. ROOMS already makes a spectacular splash during its first "appearance" in a shop: a four-module shop-in-shop system showcases the 30 widely ranging ROOMS decors as well as three newly developed skirting board profiles. Presentation of the new premium brand is additionally enhanced by an integrated flat screen that lets customers take advantage of the practical "Floor Studio", which is of course also available on the new ROOMS website at www.rooms-floor.com. It makes it easy to select the décor and colour of the new ROOMS laminate floorings and then experiment by combining them with different wall colours and many other parameters in predefined room situations. This lets you directly experience them in a wide variety of realistic settings.

The SWISS KRONO GROUP would like to thank everyone who visited it at DOMOTEX 2012 for their interest. Until DOMOTEX between the 12th and 15th of January 2012, the company wishes them a very successful year of business.

For everyone else, the new KRONOTEX full-line catalogue, titled "Collection 2012", is available online for downloading with complete information and news.

Die fünf neuesten Artikel
Weitere Artikel