New creations with an authentic look
Kategorie: Innovations, Products
08. July 2020 | Good news for all those looking to add a touch of robustness or exquisiteness to the cosy style of modern comfort. PORT OAK enriches the popular ROBUSTO and EXQUISIT laminate collections from the KRONOTEX family with four new and inspiring décors.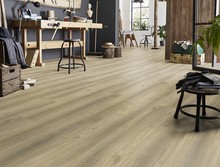 Those in search of sustainable low maintenance and robust resilience for their modern home do not have to forego stylish comfort. Port Oak (D4609), Port Oak Titan (D4610), Port Oak Medium (D4611) and Port Oak Grey (D4612) are the four new stylish yet robust décors enriching the ROBUSTO and EXQUISIT collections from KRONOTEX. PORT OAK – this is the modern, elegant and authentic look of mature oakwood in four of the latest décor variants.
Whether you go for the natural look or stylish surroundings – comfort is always top priority
Lend your living spaces the cosy comfort that they deserve. POST OAK helps you view rustic elegance with a new, contemporary approach – as an authentic laminate décor that perfectly complements any modern furnishing style. PORT OAK is easy to install, flame retardant and hardly distinguishable from solid wood. In an inspiring interplay between desaturated and finely-grained boards, the PORT OAK décors in both KRONOTEX collections offer cosiness that is a combination of alpine comfort and studio elegance.
PORT OAK – sustainable and innately welcoming
Whether you choose the welcoming and enlivening Port Oak Medium, the elegant chalk-effect of Port Oak Grey or the Port Oak and Port Titan in the style of English cottages – the natural-looking grains on panels with the innovative harmony between feel and décor can be combined with functional kitchen furniture, as well as with comfortable living-room and bedroom furniture. Whether you choose leather, the trendy felt look or the Scandinavian or Mediterranean styles – with its four latest colours, Port Oak accompanies you all the way towards stylish and contemporary living.
Five Latest Articles
More articles