Online Quantity Calculator: How much laminate flooring do you need?
Kategorie: Products, General
05. April 2018 | The KRONOTEX Online Calculator makes it very easy for you to determine the amount of laminate flooring that you will need for a given room.
On all of the pages of this website that present laminate décors, now you can find a way to calculate how much of it you'll need for your project. First measure the room – in other words, the lengths of the walls, from corner to corner. Then enter the room's dimensions as well as the desired laying angle (parallel to the longest wall, at a 90° angle to it or oblique) into the calculator and click to see how many boxes of laminate flooring will be required. The surface area is also calculated so you immediately learn how many square metres will have to be covered with underlay materials such as plastic membrane and acoustic insulation.

The package yield, in other words the number of square metres that can be covered with a package of a given laminate flooring, depends on its thickness and panel dimensions. A box of thinner, narrower panels goes further than one of a décor that comes in thicker, wider plank-format panels.

The amount of trimming scrap depends on the laying angle and is also calculated. 15% is the rate assumed for the two oblique patterns (45° and 135°), but only 10% for installation parallel to the walls.

A room's circumference is important for calculating how much skirting board is needed. The calculator therefore also works out the total length of all of the walls so you'll know how many metres of it are required to attractively finish your new laminate floor where it meets the edges of the room.

Take your time browsing the product pages of our various collections. We're certain that you'll find at least one KRONOTEX laminate flooring décor that thrills you. And then you can immediately try out the online quantity calculator on it!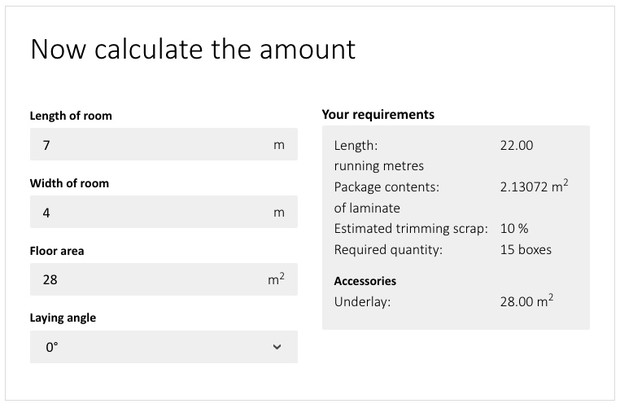 Example calculation for the Alta decor (D4700) of the DYNAMIC PLUS collection

Five Latest Articles
More articles