­
KRONOTEX AQUA ROBUSTO
AQUA ROBUSTO – Laminate flooring for all life situations
Our daily lives hold numerous important challenges in store: a leaking radiator or a vase knocked over by the dog – always when you are not there, of course. At least you don't have to worry about the laminate flooring. Even tougher and everlastingly sound – AQUA ROBUSTO is a reliable companion for the most demanding challenges. A mounting board highly resistant to swelling and a force-fit locking system create a strong team to cover every life situation. The laminate flooring is extremely water repellent, resistant to all kinds of liquids and extremely durable. When combined with the AQUA skirting board, the laminate flooring can withstand standing liquids for 24 hours without any signs of fatigue (according to NALFA test)!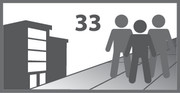 Clases de utilización
Comercial 33 AC 5

The natural product is particularly suitable for children and pets who are in frequent contact with the laminate flooring. It can easily forgive a mishap or two.


Laminate flooring should usually be cleaned with a damp cloth. The AQUA PEARL System floors can easily be cleaned with a damp mop and steam cleaner (household appliance).


Liquids and standing water should be absorbed within 24 hours (according to NALFA surface swell test approved for 24 h). Suitable for rooms with high humidity.
Suitable for rooms with high humidity.
Not suitable for outdoor areas, rooms with permanently high moisture load, e.g., shower cubicles, saunas and rooms with floor drains.

Propiedades del estilo decorativo

Estructura
Estos paneles tienen una estructura de superficie especial.

Colocación rápida
Colocación rápida mediante sistema de anclaje por bloqueo mecánico en dirección longitudinal y transversal de fácil aplicación.

V4 – biselado en los 4 bordes
Estos suelos poseen bordes biselados de 45°. Al unir los paneles se crea una ranura en V que transmite el carácter de las tarimas de madera maciza. V4 – biselado en los 4 bordes

Antiestático
Antiestático
Certificados




Programa de suministro
| Grueso | Largo | Ancho | Paneles / Cartón | m² / cartón | Cartón / Paleta | m² / paleta |
| --- | --- | --- | --- | --- | --- | --- |
| 12 | 1380 | 191 | 5 | 1,318 | 56 | 73,808 |
Superficies
| | |
| --- | --- |
| 1-Tablilla | |
Rodapié