Berlin Chic in the 'Gebrüder Fritz'
Kategorie: Innovations, Products
25. September 2020 | Our slogan for the HERRINGBONE collection fits like a glove to a new partnership between KRONOTEX and the 'Gebrüder Fritz' (Fritz Brothers) in Berlin, both of which boast reinterpreted classic styles.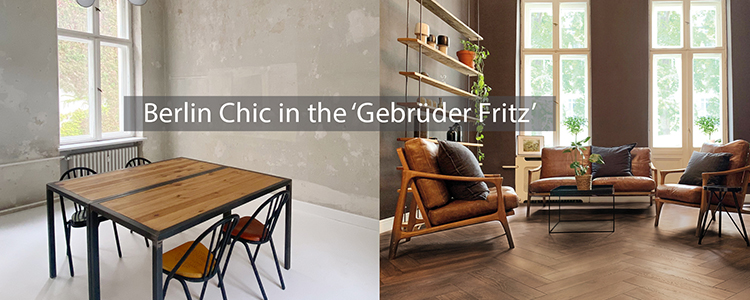 This enormous flat is prominently located on the first floor of a magnificent old residential building right on the Kurfürstendamm, colloquially known as the Ku'damm, one of the city's most famous boulevards. Owner Kathrin Limburg has transformed it into a fashionable venue imbued with urban lifestyle for marketing events, photoshoots and get-togethers of all sorts. International brands, artists, organisations and associations rank amongst her clients.

After extensively renovating the flat last winter, styling expert Kathrin Limburg and her painter, Dörthe Krüger-Mähl, hit upon the idea of rounding out the interior design by installing new floors. And after paying us a visit at our plant in Heiligengrabe, the event specialist was convinced: 'We have wonderful rooms in the Gebrüder Fritz. And SWISS KRONO offers an impressive range of fantastic floorings. They're a match made in heaven!'
Her wish was our command. For her library, Kathrin picked out the dark, smoky Calais Oak décor from the nine styles of the HERRINGBONE collection. Its hues optimally underscore the anthracite of the walls.

In stark contrast, the white décor of the GLAMOUR collection injects a clear structure into the purist studio of the Fritz. Emulating natural stone, it introduces clarity with its geometrical forms.
In return, the Gebrüder Fritz provides KRONOTEX with a hard-to-match stage for showcasing its products. 'It's a space filled with creativity and blessed with a high-profile clientele,' enthuses Robert Schneider, the sales director for flooring of SWISS KRONO TEX, about the new collaboration. 'We're eagerly looking forward to developing lots more ideas as a team.'


Five Latest Articles
More articles