Let it shine - Advent promotion
Kategorie: Innovations, Products
20. November 2020 | EXQUISIT Sierre Oak Gold Adds Shine to Your Home
Home, sweet home: now, more than ever, in this pre-Christmas season in the midst of the COVID-19 pandemic, our homes are the most beautiful places in the world, which we enjoy making even prettier. The Sierra Oak Gold décor of the EXQUISIT collection is ideal for enhancing it with holiday gleam. Its warmly flattering hues, ranging from vanilla to hazelnut, render hallways timelessly elegant. In fact, its mesmerising play of colours enchants any room, especially during the runup to Christmas. Let it shine!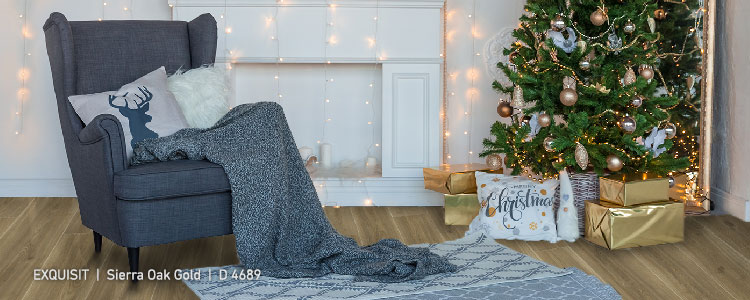 The hallway floorings of the EXQUISIT collection are genuine classics. Due to their 3D grain, they deliver an exquisite visual and tactile experience. Their milled V-grooves underscore the natural impression, making them virtually indistinguishable from real wood planks.
EXQUISIT features abrasion class 32 AC 4, making it robust enough for use in commercial premises.
Order now: EXQUISIT Sierra Oak Gold (D 4689) can be delivered within just 14 days if we receive your order by 15 December 2020 (only as long as supplies last). You can also receive two packaging units of white skirting boards free with your order. To take advantage of this offer, please make sure to add the promotional code "CM2020" to your order.
KRONOTEX Sales Team
Your personal customer representative will be happy to answer your questions and accept your orders!
Where KRONOTEX is at home
Home, sweet home – what wonderful words! They are our anthem, as we devote ourselves to people's homes all over the world, 365 days a year. And because, as we all know, the way to the heart is through the stomach, we've assembled a collection of tasty baking recipes for you: lots of sweet temptations for you to enjoy in your comfy home during Advent.
We're also looking forward to receiving your own biscuit recipes! Send e-mail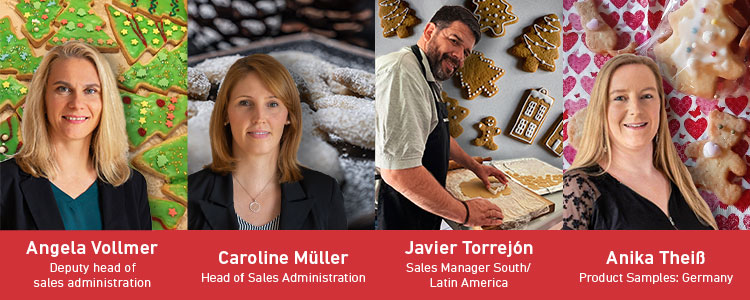 To our biscuit recipes:

Five Latest Articles
More articles