My Weather: Aqua Robusto Resists Autumn Rain
Kategorie: Innovations, Products
15. October 2020 | When the weather takes a turn for the worst in the autumn, the Catania Oak décor of the AQUA ROBUSTO collection rises to the occasion.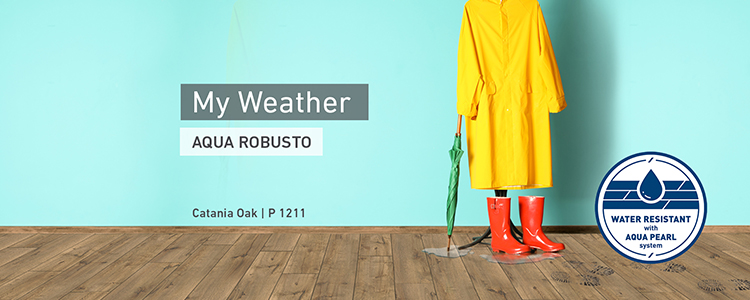 It enhances indoor comfort while taking rainwater carried in on shoes and clothing in stride. All AQUA ROBUSTO décors boast an innovative technology which enables them to repel water for up to 24 hours (as shown by performance tests carried out by the North American Laminate Floor Association). This is achieved with a highly swell-resistant core board and a tightly fitting interlocking system.

The AQUA ROBUSTO collection, belonging to utilisation class 33, comprises no fewer than 12 décors. Featured here, Catania Oak excellently harmonises with autumn hues thanks to its broad chromatic palette ranging from yellow across medium brown to dark brown. It injects a sense of strength and stability into any room.

Order now:
AQUA ROBUSTO Catania Oak (P 1211) can be delivered within only 14 days if ordered by 15 November 2020 (only as long as stocks last!). With every pallet ordered, you also receive two VE Aqua60 skirting boards free of charge. To take advantage of this offer, please make sure to indicate the promotional code 'ARCO1511' when ordering.



Where KRONOTEX is at home
In case you think it's necessary to travel to New England to experience an Indian summer, you haven't visited the German state of Brandenburg yet. Right now the forests of its lake-dotted landscape are displaying a riot of magnificent colours, accompanied by the mystic cries of tens of thousands of cranes in Europe's largest crane resting area around Heiligengrabe before winging their way further southwards to spend the winter in warmer climes.

And who isn't enchanted by autumn? We're looking forward to your photos! write E-Mail


KRONOTEX Sales Team
Your personal customer representative will be happy to answer your questions and accept your orders!

Five Latest Articles
More articles